Merit Software—the Trumpauto partner in all things finance
Today, we want to talk about Merit Software, the leading accounting and payroll software firm in Estonia. Trumpauto has been partnered with them since 2019, meaning our clients can enjoy the benefits of simple, seamless integration between their workshop operational and financial information through Merit Aktiva—the designated Merit accounting software.
Merit Software was founded in 1991, when the founders Kaja and Andres Kert began to develop a better accounting system for their work at the time. Today, Merit Aktiva is used by more than 60 000 businesses in Estonia, Finland, and Poland. The payroll software Merit Palk—"palk" meaning "salary" in Estonian—is used by more than 18 000 companies to pay over 110 000 employees. Despite decades of experience, Merit still functions as a start-up, growing at least 25% each year. The company is part of Visma group, the largest provider of cloud-based software in Europe, and in 2020, Estonian financial newspaper Äripäev named Merit among the top 10 best IT-companies in the country.
One of Merit's biggest accomplishments is certainly their customer service, so successful thanks to ingenious hiring. All Merit CS executives are accountants themselves, who have a thorough understanding of problems their clients might face. And to make sure everyone stays in touch with the software, once a week every employee spends some time actually using it. The people of Merit all attribute their success to the strength and commitment of their team. Besides exceptional work each day, they organise events and functions for themselves and as charity initiatives, working with NGOs that help underprivileged families and children, and children with serious illnesses like diabetes or cancer.
At Trumpauto, we fully agree with the Merit principle that software needs to be easy to use and help save customers' time. We believe our cooperation has helped both companies achieve that goal. "API partners are very important to Merit Software. Integrations with other software help enhance Merit Aktiva and Merit Palk and speed up the work of accountants and entrepreneurs alike. Trumpauto is a trustworthy partner to us, who really makes the life of car workshops simpler and more automatic," a spokesperson from Merit has said about our partnership.
One of the most important similarities between Trumpauto and Merit has to be the focus on innovation and comfort. In the changing business world, our companies both emphasise the strength of cloudware solutions and long-distance capabilities. With Merit Software, you can keep up with your finance information from your phone, anywhere in the world, and with Trumpauto, you can manage your workshop just the same. Many of our clients praise the convenience of Merit Aktiva and how it eases bookkeeping while eliminating financial risks.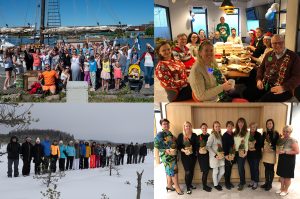 A great start-up has to have a strong team, a good idea, and successful implementation of that idea—we believe both Merit and Trumpauto can boast all three.
If you believe your workshop could benefit from cutting edge software for your operations and finance alike, let us know at [email protected] or sign up for a free trial subscription today!